Bill Pritchard was born in Lichfield in Staffordshire in England. His eponymous debut album was released in 1987 on the Third Mind label, with a second following in 1988. He then signed to Belgian label PIAS Recordings his first release for them a split album with Taxi Girl's Daniel Darc.
In 1989 he released 'Three Months, Three Weeks and Two Days', produced by Etienna Daho which was popular in the US after exposure from MTV for the single "Tommy & Co", which featured backing vocals from Francoise Hardy. His 1991 album 'Jolie' was produced by Lighning Seeds main man Ian Broudie, and gave him a breakthrough in Japan and Canada with photographs courtesy of Anton Corbijn no less.
He was managed by a succession of great managers including Gary Levermore, David Stopps and Richard Rogers and was signed by Richard Manners to Island Music Publishing in London.
In 1995 he formed the band Beatitude, releasing the single "Baby in Brylcreem" although the band were short lived. He also contributed 'I'm Your Man' to the Leonard Cohen tribute album 'I'm Your Fan' sitting next to Lloyd Cole and R.E.M.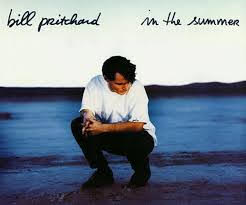 A solo comeback with Ncompass Records saw the excellent 'Happiness And Other Crimes' album foistered upon the world in 1997 with a short sold out UK tour and the single 'Every Loser In London' being A-listed on national radio. The album found critical success, an end of year album award winner with a major UK newspaper and the first album released on the internet before being released through a record company with major distribution. A cassette only release of rarities and early mixes was released the following year in 1998 with remixes by Ian Herron of the Wave Team (Gary Numan) and Max Mertens.
Bill then wrote for artists such as Auto de Lucie and Gamine including the single 'Westport Lake'.
In 2005 he signed with Universal Records for the album "By Paris, By Taxi, By Accident" and Bill did a tour in France that finished at the Olympia as opening act for Daniel Darc.
Ncompass released the album 'Audience Of One' in 2008 as a limited edition CD release before a re-release of 'Happiness And Other Crimes' due to public demand in 2009 with bonus tracks and free banned live interview CD with BBC Radio Scotland.
August 2012 saw the release of the album 'Ifs And Ands And Buts' in the Mediterranean with the single 'Turner Street' making the top 20 of the Malta national charts.
Bill then signed a record deal with Hamburg based Tapete Records who ironically had previously turned down the award winning  'Happiness and Other Crimes' album. Tapete released the albums "A Trip To The Coast" in 2014, 'Mother Town Hall' in 2016 and Midland Lullabies' in 2019 produced by longtime collaborator Tim Bradshaw formerly of the David Gray band.
| Thumbnails | Product Title | Category | Price | |
| --- | --- | --- | --- | --- |
| | | | | |
| | | | | |
| | | | | |
| | | | | |
| | | | | |
| | | | | |
| | | | | |
| | | | | |
| | | | | |
| | | | | |
| | | | | |
| | | | | |
| | | | | |
| | | | | |
| | | | | |
| | | | | |
| | | | | |
| | | | | |
| | | | | |
| | | | | |