Born in the city of Skelleftea in northern Sweden in 1975, Dan Sanderström grew up to the sound of the local underground music of the Holler movement. A blend of Swedish dance and US West Coast music, think Army Of Lover's meets The Byrds.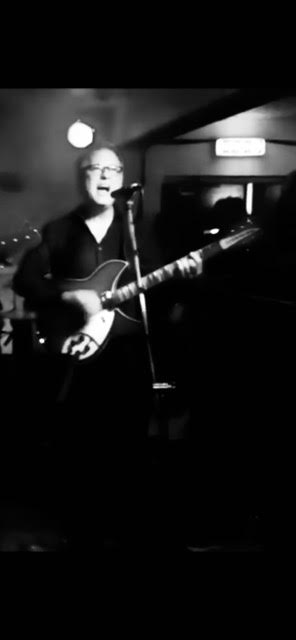 He began writing jingles for radio stations throughout southern Sweden in the early 2000s from his home studio in the tiny village of Burea about 175km from the Arctic Circle. An aficionado on various instruments but particularly the guitar, he pronounces his superb understanding of the guitar down to having had little else to do 4 to 5 months of every year because of the cold and snow in the bitter ravages of his bleak arctic like climate location.
His first band Arc Box, a duo with keyboardist Mikael Svensson weaved in and out of influences from Oasis to the Dandy Warhols to french outfit Les Rita Mitsouko and recorded 2 albums 'Splinter Points' 2009 and 'Utanfor' 2011, limited to 5,000 copies on vinyl. Each release sold out in under two weeks and Arc Box achieved two number one singles on the Creativity Music label.
Dan relocated to Neufchatel En Bray in France in 2013 and started working with 60s visionary and fellow guitar great Remmy Le Plage now into his eighties (Remmy was Jimi Hendrix guitar tutor) and multi instrumentalist Pepe Souen where they produced the soundtrack to the play 'The Boy And The Horse' in 2015 and the currently unreleased album 'Flesh Wounds'.
At the start of 2020, Sanderström was due to play his first Scandinavian tour as a solo artist but this was cancelled due to the Corona Virus pandemic, so he is currently putting further songs together for his next project tentatively titled 'Sea Salts' where he aims to bring a refreshing revamp of a classic era but with a contemporary vibe whilst covering multi music styles.
| Thumbnails | Product Title | Category | Price | |
| --- | --- | --- | --- | --- |
| | | | | |
| | | | | |
| | | | | |
| | | | | |
| | | | | |
| | | | | |
| | | | | |
| | | | | |
| | | | | |
| | | | | |
| | | | | |
| | | | | |
| | | | | |
| | | | | |
| | | | | |
| | | | | |
| | | | | |
| | | | | |
| | | | | |
| | | | | |