Darren J Sheppard is based in the Midlands UK and has been on the regional music scene as a session guitarist and vocalist since the early 1980s.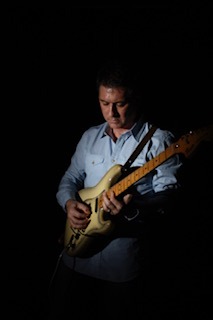 Career sessions included; demo tracks on bouzouki for a major Hollywood Film project. He was in great demand as a guitar studio session player due to his authentic 60s guitar sound and played for many 60s stars including Dave Berry & Brian Poole, plus background sessions for various UK Eurovision bands/artists.
Heavily influenced by 1960s harmony of bands like The Beach Boys, The Byrds and The Beatles a large inspiration, he also incorporated hints of a quintessentially Brit sound with The Kinks and Yardbirds. In later years Darren took reference points from Garth Brooks, Coldplay, Crowded House and Kaiser Chiefs and his songwriting takes in these contemporary elements to give a fresh feel. Darren's writing is multi-genre and includes styles with Rock, Pop, Country, Blues, Surf, Indie & Ballad.
In the early part of the 21st century, Darren released two critically received albums including mainly self penned tunes that sold well worldwide. The album 'Black Day' was released under the name Sheppard, Jarvis and Mason, a predominantly band album with varying influences from the three musicians. This included using original classic valve based amps, vintage guitars & vintage effects where possible to create/capture an iconic vibe. In addition to guitar, Darren also plays/writes using, keyboards, bass, bouzouki, mandolin and is a huge fan of 12 string electric guitars.
Darren signed a publishing agreement as far back as 2005, after being selected from 24,000 applicants for the BBC Radio 2 'Search For a Song' competition with top DJ Janice Long. He came a very credible 8th position after succeeding in four consecutive rounds of the competition to reach the final 15 chosen by a panel of heavyweight music industry A&R figures.
| Thumbnails | Product Title | Category | Price | |
| --- | --- | --- | --- | --- |
| | | | | |
| | | | | |
| | | | | |
| | | | | |
| | | | | |
| | | | | |
| | | | | |
| | | | | |
| | | | | |
| | | | | |
| | | | | |
| | | | | |
| | | | | |
| | | | | |
| | | | | |
| | | | | |
| | | | | |
| | | | | |
| | | | | |
| | | | | |